Looking Ahead With Both Hope and Fear...
New kit purchased, season ticket renewed, fixtures released and some new faces lining up in the royal blue. Exciting, isn't it?
.
.
.
What do you mean, "it's September, County haven't played a competitive game since March and we don't know whether the season will start or whether there will be more than 1000 fans at Edgeley Park!?"
Sadly, at the time of writing, we don't know whether we'll have a season to watch come the first weekend in October or whether we'll be returning to EP for the first time in seven months the following Tuesday when we host FC Halifax Town. However, this is a debate for another time. We're in a strange limbo at the moment; we can't have fans in the ground, but we can't start without them either (the release of the fixtures have merely added an air of surrealism to it). Whether we're only allowed 1000 or 2700 at Edgeley Park remains to be seen and the question of just how County intend to 'choose' 1000 of the 2000+ season ticket holders to attend home games is looming on the horizon. Above all, we are all waiting for updates from County, the DCMS and the FA with bated breath.
The tone of my last article was as a result of some lockdown/football withdrawal weariness, this one is much more upbeat as I take a look at the new-look club which has been taking shape since March.
Pandemic or not, County have certainly not let much stand in their way over the last few months and we have seen the professional, efficient and smooth re-branding become an everyday part of the club. The Next Chapter, as it has been dubbed, has gathered speed and there have been several developments, both on and off the pitch, in what is definitely the most eventful pre-season in County's history.
After the 1-1 draw with Barnet in March, our last game pre-Covid-19 game at Edgeley Park, Jim Gannon lamented during his post-match interview, "I'm constantly frustrated about having to shout at the same players over and over again about the same things, I'm fed up with it and I can't wait to work with better players" It's fair to say he got his wish.
We have seen ten new signings during a hectic summer, indeed at times earlier in the extended pre-season, it was difficult to keep up. If any of them could be branded a 'marquee signing' then Jordan Williams and John Rooney must surely be at the top of the list. Even so, every single signing is expected to contribute straight away, no players for the future or ones to develop with loan stints elsewhere. Mark Stott's money has allowed us to aim higher and we're now in a position to be able to afford the contractual demands of players who are considered the finished article. Players like Liam Hogan, Rooney, Jennings (both Connor and James), Maynard and Bennett. The slight exceptions are younger players Josh Barnes and Mark Kitching, but in the case of the latter, he'll more than likely be a starter once the season finally starts.
Looking closer at the new faces it was clear to everyone where the holes in the squad were and none more so than left-back. The aforementioned Kitching and James Jennings may be at either end of their careers but both will undoubtedly add stability and attacking intent to the left, Kitching in particular looks to be an exciting addition in what was a huge problem area for County last season.
In central defence, Festus Arthur made a move to Hull City and in his place came familiar face, Jamie Stott. His brand of composed, yet determined defending will certainly bolster County's backline, plus he'll be learning from two of the best centre-halves in non-league in Hogan and Ash Palmer.
Right-back, Macauley Southam-Hales and midfielder, Harvey Gilmour have featured sporadically in pre-season. Late arrival to the County squad, Southam-Hales, has been the subject of some great reviews from Hartlepool United fans following his loan spell there last year, he featured briefly for County against Guiseley and his energetic style will give Sam Minihan some much-needed competition. Gilmour has been brought into the midfield on a short term contract, after a stop/start pre-season where he briefly showcased his undoubted ability it remains to be seen whether he will be signed permanently.
The aforementioned Rooney is arguably the pick of the recent signings, National League Player of the Season and 20 goals from midfield in 2020 tells you a lot about County's new number 8, his ability to pick out a pass and his set-piece prowess reminds me of the number 8 he'll be replacing. Whilst discussing the midfield, I should mention Lois Maynard who is almost like a new signing after being injured on his debut at Dagenham and Redbridge last season, he is well-known to County fans from his time at Salford City and will bring experience, composure and strength to the midfield.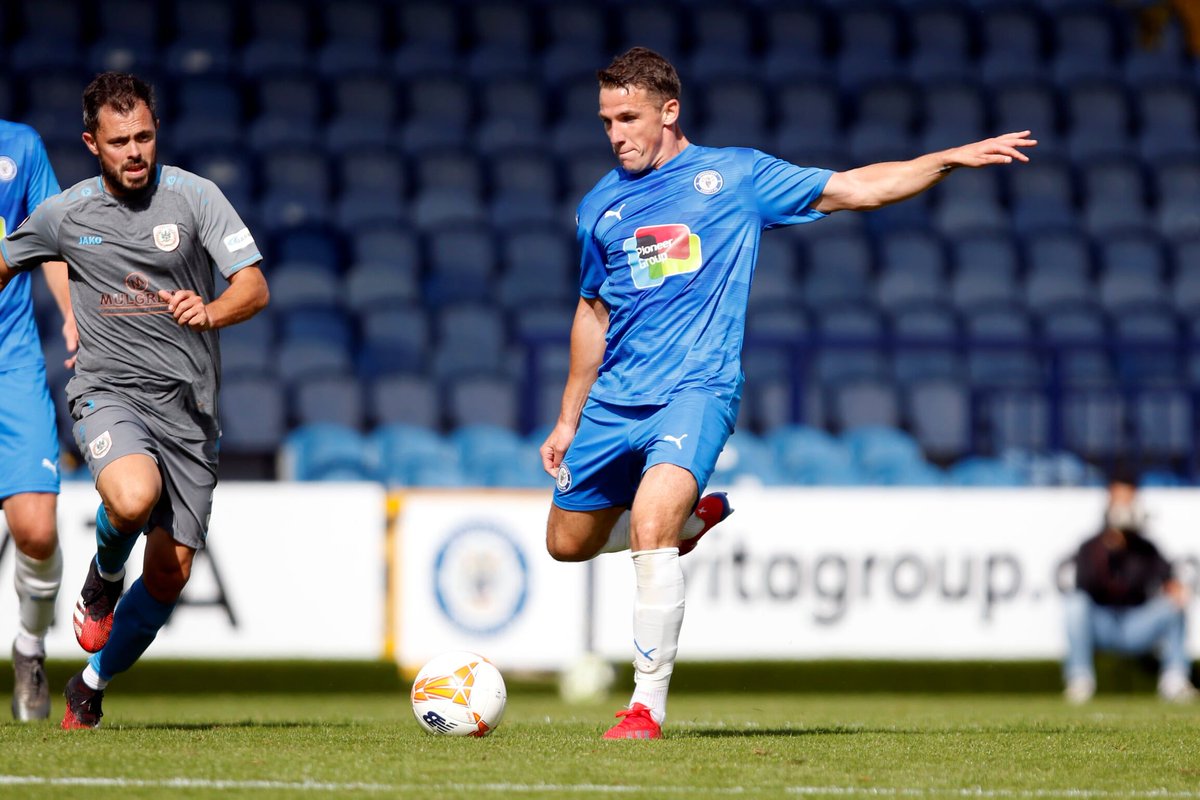 The left-sided attacker has caused Jim Gannon a few headaches last season after Darren Stephenson was injured in pre-season last year, but the arrival of Jordan Williams from AFC Fylde could prove to be a fantastic signing. Again the nature of pre-season has meant we have only seen glimpses of him, but like the signing of Rooney, Williams arrives with a reputation and along with it, expectation.
Moving further forward, Connor Jennings returns to EP after eight years and Gannon has been a long-time admirer of his talents. He was one of the first rumoured signings and he, like Williams, brings a lot of versatility to the County attack and his skill and finishing ability are vital to our success.
Striker, Alex Reid is another player courted by Gannon for a while, he has stood out at times in pre-season with his physical, direct style, pace and eye for goal. Along with Richie Bennett and a more focused and confident Nyal Bell, unlike previous seasons the County forward line will not be lacking power and intensity in 2020/21.
The new signings all bring their individual talent to the squad, but they also bring a massive amount of versatility and are able to play different roles within their position or a different position entirely. The ability to be able to adapt to the opposition and different game situations are integral to a winning side and it appears these players are just right for Gannon and his type of fluid tactical football.
Of course, we shouldn't forget the existing players; notable first-team players Jordan Keane, Ben Hinchliffe, Adam Thomas, Minihan, Bell and Palmer have all signed professional terms. It is pleasing to see the club have rewarded their efforts by allowing them the opportunity to develop in a professional set up. It is also satisfying to see the spine of our title-winning side is still woven into the squad, they deserve this opportunity.
It hasn't all been one-way traffic in terms of signings as two prominent members of the 2019 championship-winning side have left EP. Both Sam Walker and Paul Turnbull will be forever remembered fondly by both fans and players at County, they have been exemplary ambassadors for the club and they deserve all the recognition and plaudits sent their way recently.
However, we must not let sentimentality cloud our vision and ambition. We have brought a significant number of players in, players who will be expected to contribute to our promotion back to the Football League. Not all of the decisions Gannon and Director of Football, Simon Wilson, make over the next few years will be straightforward, these decisions though, will make us a stronger unit and although they are gut-wrenching in the short term, they will benefit us in the long term. We cannot take everyone on the journey we are embarking on, but those we leave behind of the stature of Walker and Turnbull will be long-remembered.



The new signings haven't just been restricted to players, as we have seen plenty of behind the scenes developments. One of the most crucial signings and one which demonstrates the new hierarchy's commitment to keeping Jim Gannon at the helm of our promotion challenge is that of the contracts given to him, Dave Conlon and the coaching staff. Gannon, given the events out of his control which curtailed his previous managerial reigns at County, more than deserves his chance to help the team achieve their aims. In many ways County are lucky to have such a keen student of the game as a manager; his attention to detail and eye for perfection is almost unrivalled, certainly in non-league.
Change has been necessary, but too much change and upheaval would be disastrous. The club, from day one of the takeover, has been keen to stress their devotion to build upon the strong principles and culture already forged during Gannon's third term in the County dugout. The extension of Gannon's contract and the way in which our existing players have been given the chance to step up into full time is a key to keeping the project grounded and it helps retain the soul of the club. A soul at which Gannon is at the core of.
One could argue we haven't ever had this kind of professionalism or determination from our owners and board, that certainly isn't a slight upon previous regimes, maybe the overall ambitions and more importantly, the financial situation, wasn't quite as robust as it is are now. If any proof was needed that Stott, Wilson and CEO Jonathan Vaughan are not here to see us stagnate one should look at the way the club has aimed high off the pitch. We already know about Wilson and his impressive CV and Sean O'Callaghan has joined from Peterborough United to take up the role of Performance Analyst. The obvious financial limitations mean these types of job roles are very few and far between in non-league and it is a credit to the club to see such an impressive behind the scenes setup taking shape. Stott has been content to sit back and let his staff get on with building a team and a club worthy of a place in the Football League, his plans have been delivered so far and we are now starting to see some real-life, visible positive changes happening.



Our home hasn't been left out of the revolution at the club either and we're starting to see some of those visible changes take shape. In desperate need of a facelift, it has seen a lot of work during lockdown and pre-season, the photos shared online of the work to the cladding on the rear of the Cheadle End preceded the club showing us a computer-generated photo of what it'll eventually look like. Much like our new image, the new exterior of the Cheadle End is smart, professional and gives a good first impression, and so it should, the ground is ultimately the focal point of the club, a selling point and it needs to reflect our ambition and drive.
Jaded and worn in other areas I guarantee the Cheadle End isn't the only area of the ground which will be updated, but it takes time and some would do well to realise that. To that end there have also been sightings of other projects being undertaken; new seats in the Railway End and the Director's box and the more eagle-eyed of you will have noticed the footage of the very stylish looking home dressing room. Again, all good signs that we are becoming the club we should have been 20 years ago, with the stadium to match.
In that 20 years have been left behind in terms of investment both on and off the pitch, we only have to look at clubs like Burton Albion, Fleetwood Town and Forest Green Rovers. Two decades ago they weren't even on a par with County, now it can be argued they are now miles ahead of us in terms of infrastructure. It says a lot about how long we have been crying out for serious owners with the financial muscle to back their ambitions that the sight of the cladding on the Cheadle End has made the majority of us weak at the knees (I say majority, some people still found the time to moan about this). However, it is projects like the Edgeley Park renovations which will help catapult the club into the 21st century, this progressive and positive outlook will also filter down to the players and management as a smart, business-like attitude will give that air of proficiency throughout the club. This is how modern businesses operate and no matter how much one dislikes the club being branded as a business, that is exactly what it is. This is how forward-thinking and well-managed 21st-century football clubs are run.
The ground and the playing staff aren't the only places we have seen change, one of Mark Stott's promises in his first interview was a new training ground, and delivering on that promise we saw the new training complex at Carrington unveiled in August. Being the worst-kept secret of all our shiny new presents meant it wasn't much of a surprise, however, our own training complex, complete with the facilities one would expect from a top-class facility such as Carrington is a far cry from sharing facilities and training on school pitches. The ambition shown to secure a complex such as Carrington is extraordinary, a professional facility like this is an absolute must for us to succeed on the pitch. It is extremely pleasing to see Jim Gannon being given the tools he needs to bring us success and Gannon will no doubt be pleased to work on another benefit which Carrington has, that of attracting quality players. Like a renovated EP, Carrington is a selling point for the club.



There can be no doubt that training at Carrington has assisted preparations during the extended pre-season and has allowed the new faces to settle in. As a result, the team's performances have become progressively better as the weeks have passed. The doubters who sought to harangue the club after defeats to Fleetwood Town and Rochdale have gradually quietened down and as we saw against Curzon Ashton and Guiseley, County are starting to turn in some confident performances.
Pre-season has also brought a more permanent change of formation, with 3-4-3 being deployed on more than one occasion. The point attacker still remains, but there is now more of a direct attacking threat with two inside forwards assisting the central attacking player in a more decisive manner. A three-man defence has been used sporadically before and the arrival of Jamie Stott pointed towards a central defensive trident being used in the upcoming season, the extra body at centre half will give the wing-backs more opportunity to get forward while playing the usual defensive-minded, second midfielder will give extra stability.
As for the remainder of pre-season, Jim Gannon confirmed on Twitter that we have three more games, two away and one at home all against National League North clubs, with two of the rumoured teams being Kidderminster Harriers and York City. I suppose it is in keeping with the odd and uncertain situation we find ourselves in at present that the club are announcing friendlies on a game by game basis, quite the opposite of the usual practice of announcing them all at the beginning of pre-season.
The one game we have been allowed back into was away at Colne, as an attendee that day it was just good to be back watching County again and be part of a feel-good atmosphere, the decent team performance also helped. The County fans present were in good voice and the intimate surroundings allowed for some jovial banter between fans and players. The other kind of banter, which only serves to demoralise, was a little crass and thoroughly unwelcome. The overall atmosphere, though, was a little subdued simply because of the occasion, the sparse crowd, venue and general feeling that it wasn't quite the same, but beggars can't be choosers in the current climate and it may be the only time we are able to see County in the flesh for some time.
For County fans, despite the Covid-19 uncertainty, this summer has been very exciting and at times, a little surreal. Projects such as ground renovation, a re-branding with a modern typeface, an updated badge and launching a recruitment programme of players with Football League and National League winning experience are the type of things other clubs do. Other clubs stream their games live, other clubs do kit launch videos, other clubs make a brand video which stokes the passion and excites, but thanks to Stott and the team behind the scenes we are now turning heads, we are in conversations about promotion contenders and as we move into a new era we are evolving into a new club.
As I mentioned on the second to last podcast we have all the pieces in place to succeed, the jigsaw is well underway, but it matters not a jot what the colour of the new Cheadle End cladding is or how many season tickets we sell, if we fail to succeed and fail to realise the ambitions of Stott and Vaughan we'll become very much style over substance. It is time for the new signings both on and off the pitch to gel, drive us forward and write their own history. Luckily for us, we have in Jim Gannon absolutely the right man to take us forward and all we need now is for the season to start. The question is, will it start? Will it finish? Who knows? One day though we will be back and, as a famous Stopfordian actress recently encouraged, we should "enjoy the journey".