No One Hates Us, We Don't Care (Much) - Discussing County's rivalries
Sport encourages rivalry and rivalries are good, they stoke passion, pride, tension, drama and keep one another on their toes because heaven forbid they should be better than us. Bristol City have Bristol Rovers, Birmingham CIty have Aston Villa, the Sheffield clubs aren't atop of each other's Christmas card list and Celtic and Rangers don't exactly get on. Rivals don't even have to reside in the same city; look at Swansea City and Cardiff City, Crystal Palace and Brighton and Hove Albion and Chester City and Wrexham.
County, well, we don't have anyone we can roundly dislike 365 days a year, at least not from Stockport anyway. No derby game, we're just one team surrounded by no one else, and therein lies the problem. Consequently, County have found themselves in a chameleon-like state of forming rivalries with those who a) aren't too far away, geographically and b) we play several times within a short space of time (also known as game-saturation), however, as we have found out in the last twenty years or so, those rivalries tend to also be based on both clubs remaining at the level they're at.
I'm not going all Danny Dyer on you, this isn't about hooliganism. This is more about County's rivals, how they arrive from nowhere and disappear again just a few seasons later. This will explain what ingredients make up our rivalries and as we'll establish, familiarity definitely breeds contempt.
Back in the 1970s and 80s, when passions and expectations were somewhat lower than say, the Bergara or Gannon years, it was difficult to create much rivalry, but regular games against Rochdale, Crewe Alexandra, Barnsley and Bradford City were County's 'derbies'. In a time when crowd trouble in English football was a real problem, the games against Yorkshire opponents seemed to add some extra spice to the atmosphere.
Our promotion to Division Three in 1991 meant we were mixing with some much bigger teams, teams which had been hanging around the top tier only a decade or so previously. West Bromwich Albion, Birmingham City and Huddersfield Town would all be regular visitors to EP, most left with nothing after Bergara's County dished out more than one shock result over the next few years. Big games equal big crowds and more tension and all three of the above, plus teams such as Preston North End, Port Vale and Blackpool would make up County's rivals for the best part of the next decade.
The arrival of the Associate Members Cup in the mid-1980s (more recently known as the EFL Trophy, or to most County fans, for obvious reasons, the Autoglass Trophy) really upped the number of potential derbies on offer to teams, including County. It was the catalyst for one of County's 1990s rivalries, it also helped bring forth another element to County's game-saturation rivalries, that of anxiety and drama which accompanies a big game with something at stake.
County and Burnley had for the most part of the 20th century been at opposite ends of the Football League until the mid-1980s when they started to meet in Division Four and the EFL Trophy. During the five years between 1985 and 1990 the two teams met 18 times and during the next decade a further 16 times.
Looking closer, the rivalry certainly did fit the big game criteria, County beat Burnley over two legs in the Northern Final of the Autoglass Trophy, with Jim Gannon netting the crucial aggregate winning goal, to send us to Wembley for the first time. We also have the infamy of the 1994 play off final where David Elleray took centre stage by sending off Chris Beaumont and Mike Wallace (County still hold the record for having the most players sent off in one game at Wembley). Being in the same division for four out of five seasons during the 90s cemented the rivalry with two high-scoring defeats in successive games at Turf Moor (4-3 and 5-2) and merely weeks after the aforementioned Autoglass Trophy Final defeat to Stoke in 1992, County came up against Burnley at home in August of the following season.
There was also the small matter of that team from Staffordshire. Unlike Burnley, the rivalry with Stoke between 1991 and 1993, didn't have the chance to blossom in the EFL Trophy as County hadn't played them since 1927. When the rivalry peaked in 1993 the sides had met each other seven times in two and a half years and breaking down those games we can see why, even for such a short time, the rivalry was quite intense; we had the unforgettable Play Off Semi Final victory in 1992 which was marred by an angry pitch invasion by disgruntled Stoke fans, the Autoglass Trophy final at Wembley less than a week later and two seasons in the same division which saw some particularly bad-tempered games between the two sides. The defeat at the Victoria Ground in March 1993 was not only significant for County fans who came under fire from numerous coins and batteries when we had the audacity to go 1-0 up, but was also infamous for the Jim Gannon/Mark Stein incident.
Stoke eventually climbed back to their natural position in the upper tiers of football and our rivalry faded away. The Burnley rivalry came and went and came back again as our promotions saw us play against each other another four times either side of the millennium (the last of which I was caught up in some nasty scenes between the two sets of fans outside the Cheadle End and then on Mercian Way after the game), however, that rivalry, the most memorable and heated of the last couple of decades has long since departed too; 2022 will mark 20 years since we last faced each other.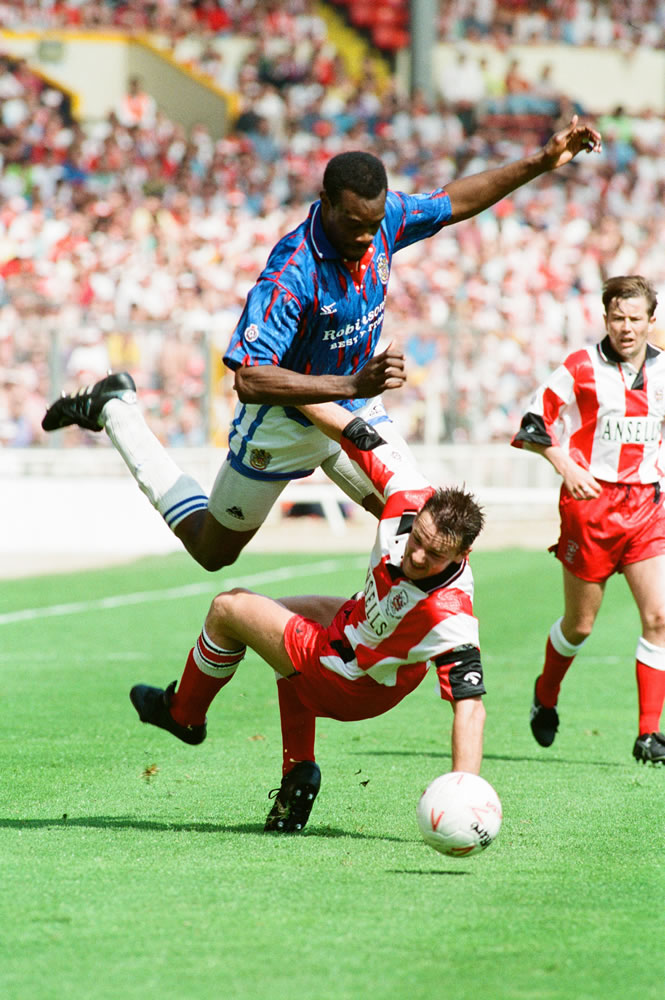 To fill the void vacated by Stoke and Burnley was a team whose fans apparently went to every Friday night game at EP during the 1980s and 90s, they were regular testimonial opponents for County who helped fill the kitty immeasurably during that time. Apparently, we should have been grateful for having Manchester City on our doorstep and they took every opportunity to remind us of their contributions to County and of the massive differences between our respective clubs. County were for many years an easy target for City, it was true that the most glaring difference was the number of divisions between us, but that all changed when County were promoted to the second tier in 1997.
The City rivalry lasted just six games, but on the whole, they were the most gratifying six games against any opponent in County's history. For decades our club and our fans had been patronised and patted on the head by City fans, however, County now had real justification to give some back while deep down still being 'little old County'. We saw City fans leaving EP in their droves at half time back in 1997, we had Tony Dinning's penalty and in our final match, as the two sides were moving in vastly different directions and possibly the last league match we'll play for another 87 years, one of the worst sides in Football League history which was relegated in March, beat that season's First Division champions with a goal in the dying moments. Memories to last a lifetime for County fans.
To this day City fans say they didn't really care our rivalry. United are their rivals, but when they were scrapping around the second and third tiers United were off winning European trophies, multiple Premier League titles and didn't give CIty a second thought, it was County who were City's rivals. City were a big fish in a small pond though and as will become apparent, County have very recent experience of that feeling; fighting off smaller teams who are trying to be rivals with them.
Fans of the clubs we have spoken about, those bigger clubs with long-established rivalries of their own, become rather spiteful when asked about their rivalry with County. They didn't care, apparently, or we County fans made more of it than was really necessary. They are partly correct, County don't have a rival so we fans have to make our own, hence the reason why our rivalries are more random. However, fans of Burnley, Stoke or City weren't so chippy when they could play us in a random League Cup tie or a friendly every few years where they could deliver a sound hiding and send us back home. When we started to level the playing field by being in the same division, in some cases being a division higher, and actually started beating them on a regular basis, that's when they started to take notice. The reason which irritated fans of our bigger rivals the most was that County, with their virtually empty trophy cabinet and four-figure attendances, were on exactly the same level as them. We had grown whereas they had regressed. No longer could they use their biggest argument; "what division are you in?".
If they didn't care ask the Stoke fans why they draped a banner over a motorway bridge after our defeat to Peterborough United in the 1992 play off final which 'hilariously' poked fun at our successive defeats at the twin towers? The same applies to any of our rivals who are used to playing in much higher leagues and for much higher stakes if they didn't care why did they take it so seriously?
Either side of the 2008 Wembley play off final victory we had our regular band of rivals such as Rochdale, Bury, Blackpool, Bradford, Huddersfield Town and Macclesfield Town. Oldham Athletic also made the list for the first time since the early 1980s due to their league fluctuation.
The Macclesfield rivalry is a strange one, being less than 15 miles apart you would think Macc are a natural rival of sorts, but the odd FA Cup tie before 2005 were our only meetings. However in the six years to 2011, we met them 10 times. The first league meeting just happened to be Chris Turner's nadir before Jim Gannon saved our skin in League Two. If Macc's precarious financial position is anything to go by we could pass them in the league before too long and the rivalry may never exist again.
The descent down the leagues brings us nicely to the 2010s and we've come full circle somewhat. County's dramatic tumble left us with no real high-pressure games and nothing to really stoke the passion between fans. In terms of geography, there wasn't a Crewe, Rochdale or even a Bradford. We had Stalybridge Celtic, Hyde United (or Hyde FC, or whatever they call themselves these days. FC Wicker Man would be more apt) and even Tamworth. It's hard to get fired up for the visit of Tamworth, especially when you've spent the last few years stumbling from one disaster to the next, but you reap what you sow.
The last few seasons have seen more teams rise and fall away as our rivalries, like they always have, come and go. FC United of Manchester and Salford City became our rivals for a short while, of the two FC United appeared to be a much more 'traditional' rival due to the short geographical distance between us and the number of dramatic games we played against them. Their fan's penchant for aloofness also added another dimension to the rivalry.
The season before the National League North title win Chorley defeated us in the play offs, it was at that game where the seeds of 2018/19 rivalry were sown and in the spirit of game-saturation and high-stakes football, Chorley became our rivals for a season or two. Now they're back in the sixth tier it's likely to be a while before we play them again.
AFC Fylde, the current pantomime villain to many County fans, also added their name to the list and much of the reasons why they became a rival is of their own making. Cast your minds back to the FA Trophy semi final in March 2019 and the vulgar and rather classless way both the Fylde chairman and their players celebrated their aggregate win. I'm not condoning the reaction by a few members of the County faithful, but you can certainly see why it happened. Added to that are the political and social views aired by their Chairman, not to mention the crass way in which the club sprang up from nowhere to become, until last season at least, a name in the upper reaches of the National League, and you can see why there is a lot of dislike for them. They, like Chorley, are consigned to at least one season apart from County, but in the case of Fylde should we meet again in the near future I don't doubt the rivalry will ignite once again.
So, we're up to date and we are presently crossing swords with our old school Football League rivals Chesterfield and Wrexham. If FC Halifax Town don't win promotion this season then they too could be added to the list as they're surely going to be a fellow contender next season. All three of those clubs are well supported especially the first two; remember big games equal big crowds and a more tense atmosphere - perfect for the basis of a rivalry. I'm sure you'll remember the fantastic atmosphere away at Wrexham in August 2019 and if the season hadn't been cut short we would have packed the away end at Chesterfield on a sunny Good Friday in April this year.
We came full circle in that we were, for a few seasons at least, without many high-pressure games and the team didn't produce anything to peak the fans' attention. Well, we had also come full circle in terms of County's standing with their new rivals, now County are the big club in the rivalry like Stoke and Burnley were in the 1990s. County fans can look down at so-called smaller teams trying to make a rivalry out of seemingly nothing, but without a natural foe, we were forced to reluctantly accept that Curzon Ashton, Altrincham and Bradford Park Avenue were our rivals.
We used to ask if City and Burnley didn't care about our rivalry, why did they take it so seriously? Well, that argument now applies to County, we can say we don't care about our non-league rivals but if we truly don't, why do we take games against them so seriously?
County fans have been forced to establish their own rivalries and as such some of the ingredients that make up a rivalry are subjective. We have the main ones such as game-saturation and the high-stakes games, but there are also criteria such as ex-players turning out for a different team, a random bad-tempered game which sparks a rivalry or pure and simple irrational dislike. It's one of the many little oddities which makes following County what it is, but wouldn't it be nice to have another team in town, just once, to experience a proper rivalry, a real derby?